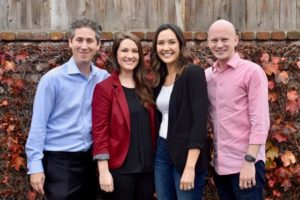 APF's Research Team continues to develop and evaluate cutting edge behavioral approaches that make fundamental differences in the lives of children diagnosed with ASD. The team's productivity is difficult to match, averaging 10 peer-reviewed articles a year, totaling over 100 publications in 10 years – in over 30 journals and books and with the collaboration of over 50 different researchers. In addition to research, team members speak at conferences and provide training in the United States and abroad.
Research evaluating behavior analytic intervention delivered directly via telehealth has become the focus of APF's Research Team during the COVID-19 pandemic. One article "Evaluating Discrete Trial Teaching with Instructive Feedback Delivered in a Dyad Arrangement via Telehealth" has been published in a special issue on Telehealth in the Journal of Applied Behavior Analysis, while several other telehealth research studies are currently being conducted or are under review in peer-reviewed journals.
Current areas of research include, but are not limited to:
development and evaluation of direct telehealth interventions that promote the development of language and social skills.
evaluation of direct telehealth interventions for social skills groups.
development and evaluation of interventions that promote the development of social skills across the life span.
development and evaluation of methods to enhance learner skill acquisition through Progressive ABA™.
development and evaluation of methods for training interventionists and supervisors to implement Progressive ABA™.
evaluation of assumptions in ASD interventions.
evaluation of short and long term outcomes as they relate to different approaches to ABA.
Research projects can last from one month to five years, depending on the purpose of the study. For instance, long term outcome studies can require several years to complete, while telehealth studies or social skills intervention studies can be completed within one to six months.
To learn more about how to support or participate in research studies, please contact Co-Directors of Research,  Justin Leaf and Joe Cihon.