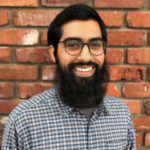 Asim Javed
Asim is a second-year fellow at the Academy. Asim's interest in the field of autism began as an undergraduate student at the University of Rochester. As a sophomore in college, he assisted with several autism studies under the mentorship of Dr. Tristram Smith and Dr. Loisa Benneto. After graduating from college in 2012, Asim worked as a service coordinator for individuals with disabilities, while also completing his master's in Human Development at the University of Rochester. Following three years in service coordination, he realized he wanted more hands-on experience in the field of autism, and he decided to complete additional graduate coursework in Applied Behavior Analysis. At the same time, Asim rejoined Dr. Tristram Smith's research lab and assisted with two different community-based autism studies. While working in the lab, Dr. Smith told Asim about a great fellowship opportunity at APF. "Considering I was seeking direct experience with leaders in the field," Asim says, "I decided to make the move to California for the two-year fellowship."
"Working at APF has been an absolute joy," says Asim. "One of my favorite parts of the job is celebrating small steps every day and then seeing those small steps progress into bigger steps over time. I also love how I'm surrounded by some of the best mentors in the field. Their guidance and support constantly push me to be better." Asim is currently pursing his doctoral degree in applied behavior analysis at Endicott College. Overall, he is confident APF is helping him gain the skills necessary to be successful in the future.
---
Maddi Majeski
Maddi is a second-year fellow at the Academy. She graduated from the University of Kansas in 2018 with a major in Applied Behavior Science. Prior to her fellowship, Maddi worked in classrooms for three years performing ABA-based therapy. Maddi loves working with the children at APF. She embraces the challenging learning environment. "Before, I was given a list and had to follow it precisely. There was no room to adjust the therapy to the particular needs of the child. At the Academy, I am challenged to make the process mine. I often pause and think, what can I do to make this more fun and more effective for the children? How can I make it work?" Comparing her experiences with different approaches to applied behavior analysis (ABA), Maddi also raised the issue of burnout among providers. She said, "it is easier to get burnout at centers with rigid protocols, because you're not thinking creatively. At APF, you own it, you become proud of your work, and you don't have to be a supervisor to feel fulfilled." Maddi's goals include pursuing masters and doctoral degrees to continue working in the field of progressive ABA™.
---
Rika Hawes
Rika is a second-year fellow at the Academy. Rika received her master's degree in applied behavior analysis from Sage College in 2017. Prior to her fellowship, Rika received her BCBA and worked at a center in Pennsylvania as a direct therapist. She attended APF's 2018 Conference, and says she was "blown away" by the research, methodology, and results. Rika is on the supervisory track, and as part of her fellowship, she gets significant experience working directly with children, meetings with supervisors, and learning the role of being a supervisor and how to effectively supervise therapists. Rika's goal is to help spread the word about progressive ABA™. She also plans to continue being the best clinician and supervisor possible. "APF is different than other centers in which I worked," says Rika. "Most centers are protocol-based and rigid, but it is easier work. Here, it is more challenging, but also far more rewarding, because you see more progress in a shorter amount of time. Children with ASD need a specific way of teaching that is effective, because they don't learn from their environment like other kids do."
---
Shannon McCourt
Shannon is a second-year fellow. She attended the University of Kansas where she discovered her passion for working with children on the autism spectrum and graduated with a Bachelor's degree in Applied Behavior Analysis. In her free-time Shannon enjoys sports and fitness, watching the latest Marvel shows on Netflix, and helping coach a free fitness class for children on the spectrum in the evenings. She loves the opportunity to learn more about the field of ABA with the help of fellows and supervisors at APF and is excited to see what the next year brings.
---